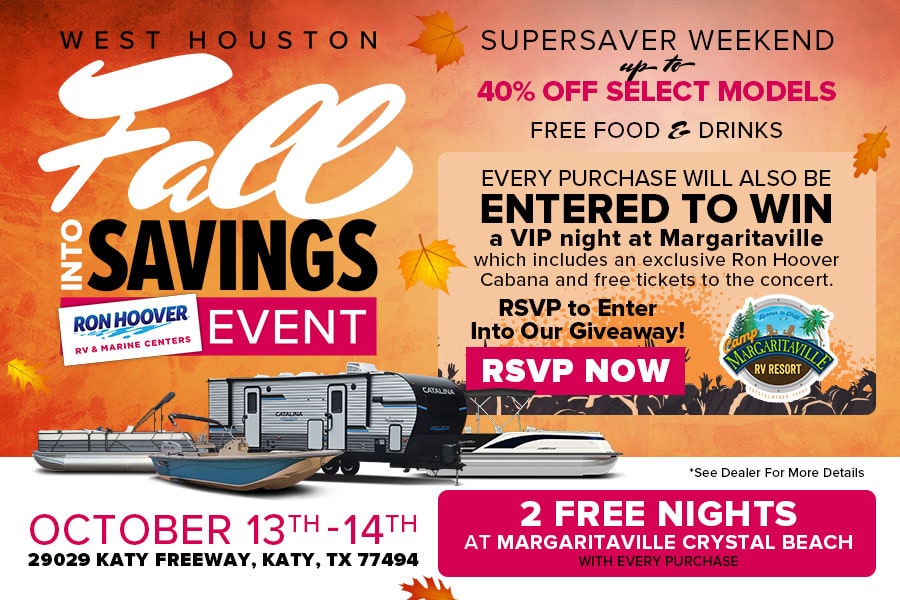 West Houston Fall Into Savings Event!
🍔🥂 Free Food and Drinks
💵 Show Exclusive Rebates
🏞️ Giveaway: 2 free nights at Margaritaville Crystal Beach with every purchase🏖️
🎉 Every purchase will also be entered to win a VIP night at Margaritaville which includes an exclusive
Ron Hoover Cabana and free tickets to the concert.🎟️🎙️


✍️Your RSVP provides you:✍️
🎊Entry into our Event Giveaway!🎊
Fantastic RV floorplans on display with show clearance pricing!
What RV Are You Looking For?
What Boat Are You Looking For?
FEATURED RV SHOW UNITS
Call for your best price! 281-829-1560

Call for your best price!

Call for your best price! 281-829-1560

Call for your best price! 281-829-1560

MSRP:

$53,020

Save:

$13,021

Sale Price:

$39,999

Call for your best price! 281-829-1560

MSRP:

$59,806

Save:

$14,807

Sale Price:

$44,999

Call for your best price! 281-829-1560

Call for your best price! 281-829-1560

Call for your best price! 281-829-1560

MSRP:

$35,939

Save:

$12,940

Sale Price:

$22,999

Call for your best price! 281-829-1560

MSRP:

$67,811

Save:

$13,812

Sale Price:

$53,999

Call for your best price! 281-829-1560

MSRP:

$66,927

Save:

$16,928

Sale Price:

$49,999

Call for your best price! 281-829-1560

MSRP:

$38,869

Save:

$14,870

Sale Price:

$23,999

Call for your best price! 281-829-1560

Call for your best price! 281-829-1560

MSRP:

$49,570

Save:

$14,571

Sale Price:

$34,999

Call for your best price! 281-829-1560

MSRP:

$55,689

Save:

$15,690

Sale Price:

$39,999

Call for your best price! 281-829-1560

MSRP:

$54,935

Save:

$14,936

Sale Price:

$39,999

Call for your best price! 281-829-1560

Call for your best price! 281-829-1560

MSRP:

$58,689

Save:

$22,690

Sale Price:

$35,999

Call Today !! 512-985-2057

MSRP:

$63,945

Save:

$23,946

Sale Price:

$39,999

MSRP:

$66,441

Save:

$16,442

Sale Price:

$49,999

Call for your best price! 281-829-1560

Call for your best price! 281-829-1560

Call for your best price! 281-829-1560

Call for your best price! 281-829-1560

Call for your best price! 281-829-1560

Call for your best price! 281-829-1560

Call for your best price! 281-829-1560

MSRP:

$52,644

Save:

$12,645

Sale Price:

$39,999

Call for your best price! 281-829-1560

MSRP:

$52,644

Save:

$12,645

Sale Price:

$39,999

Call for your best price! 281-829-1560

TREMENDOUS AMOUNT OF STORAGE !

MSRP:

$64,728

Save:

$15,729

Sale Price:

$48,999

Call for your best price! 281-829-1560

Call for your best price! 281-829-1560

Call for your best price! 281-829-1560

MSRP:

$56,795

Save:

$19,884

Sale Price:

$36,911

Call for your best price! 281-829-1560

Call for your best price! 281-829-1560

Call for your best price! 281-829-1560

MSRP:

$49,996

Save:

$15,997

Sale Price:

$33,999

Call for your best price! 281-829-1560

MSRP:

$51,514

Save:

$16,515

Sale Price:

$34,999

Call for your best price! 281-829-1560

Call for your best price! 281-829-1560

Call for your best price! 281-829-1560

MSRP:

$55,440

Save:

$22,441

Sale Price:

$32,999

Call for your best price! 281-829-1560

Call for your best price! 281-829-1560

MSRP:

$55,806

Save:

$19,807

Sale Price:

$35,999

Must go!!

MSRP:

$50,942

Save:

$21,042

Sale Price:

$29,900

Must go!!

MSRP:

$50,942

Save:

$21,042

Sale Price:

$29,900

MSRP:

$47,496

Save:

$22,596

Sale Price:

$24,900

MSRP:

$47,496

Save:

$22,596

Sale Price:

$24,900

Call for your best price! 281-829-1560

Call for your best price! 281-829-1560

Call for your best price! 281-829-1560

MSRP:

$28,906

Save:

$3,907

Sale Price:

$24,999

Call for your best price! 281-829-1560

MSRP:

$31,356

Save:

$6,357

Sale Price:

$24,999
View All Inventory