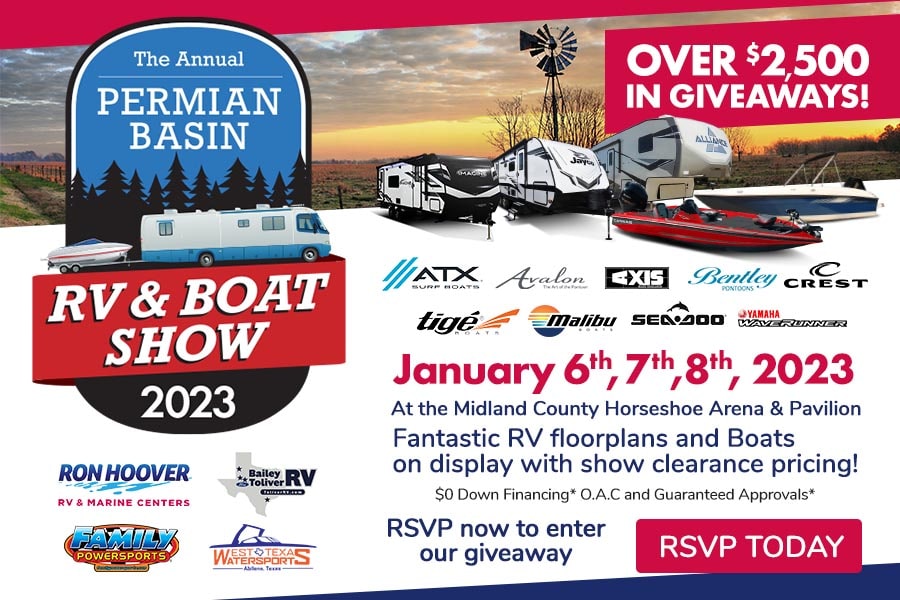 Permian Basin Show Sale Ends In:
COME JOIN US FRI - SUN, JANUARY 6 - 8 AT THE RON HOOVER RV & BOAT SHOW FOR BIG SAVINGS!
Your RSVP provides you:
Entry into our Event Giveaway!
(Over $2,500 in Giveaways!)
Featuring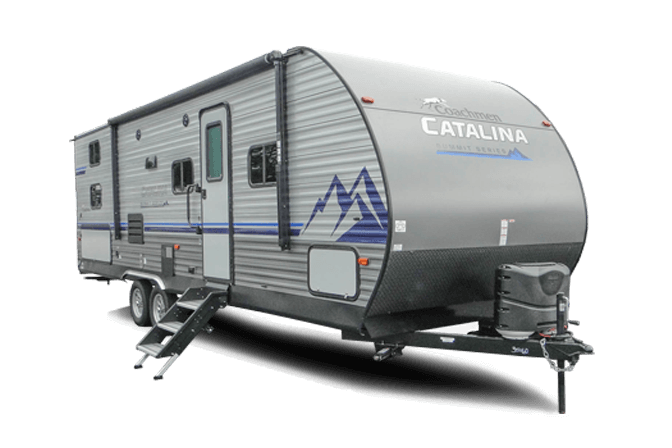 The latest and greatest RV & Boat models!
Don't Miss the BEST Savings of the Year!
What Are You Looking For?
RVs
Boats
FEATURED RVS
Call Today !! 512-985-2057

MSRP:

$40,225

Save:

$7,248

Sale Price:

$32,977

Call 512-985-2057 to schedule an appointment!

MSRP:

$53,339

Save:

$15,340

Sale Price:

$37,999

Call 512-985-2057 to schedule an appointment!

MSRP:

$59,929

Save:

$9,930

Sale Price:

$49,999

Call 512-985-2057 to schedule an appointment!

MSRP:

$53,020

Save:

$15,021

Sale Price:

$37,999

Call 512-985-2057 to schedule an appointment!

MSRP:

$59,806

Save:

$16,807

Sale Price:

$42,999

Call 512-985-2057 to schedule an appointment!

MSRP:

$60,219

Save:

$13,220

Sale Price:

$46,999

Call Today !! 512-985-2057

MSRP:

$26,363

Save:

$11,452

Sale Price:

$14,911

Call 512-985-2057 to schedule an appointment!

MSRP:

$26,363

Save:

$11,452

Sale Price:

$14,911

Call 512-985-2057 to schedule an appointment!

MSRP:

$26,363

Save:

$11,452

Sale Price:

$14,911

Call Today !! 512-985-2057

MSRP:

$26,508

Save:

$10,597

Sale Price:

$15,911

Call 512-985-2057 to schedule an appointment!

MSRP:

$26,508

Save:

$10,597

Sale Price:

$15,911

Call Today !! 512-985-2057

MSRP:

$26,508

Save:

$10,597

Sale Price:

$15,911

Call 512-985-2057 to schedule an appointment!

MSRP:

$26,508

Save:

$10,597

Sale Price:

$15,911

Call 512-985-2057 to schedule an appointment!

MSRP:

$27,813

Save:

$10,902

Sale Price:

$16,911

Call 512-985-2057 to schedule an appointment!

MSRP:

$55,060

Save:

$15,083

Sale Price:

$39,977

MSRP:

$58,689

Save:

$12,690

Sale Price:

$45,999

Call Today !! 512-985-2057

MSRP:

$63,945

Save:

$15,946

Sale Price:

$47,999

Call Today !! 512-985-2057

MSRP:

$31,378

Save:

$8,423

Sale Price:

$22,955

Call Today !! 512-985-2057

MSRP:

$31,378

Save:

$8,423

Sale Price:

$22,955

Call 512-985-2057 to schedule an appointment!

MSRP:

$36,426

Save:

$10,471

Sale Price:

$25,955

Call Today !! 512-985-2057

MSRP:

$35,680

Save:

$6,725

Sale Price:

$28,955

Call 512-985-2057 to schedule an appointment!

MSRP:

$36,126

Save:

$7,171

Sale Price:

$28,955

Call 512-985-2057 to schedule an appointment!

MSRP:

$38,717

Save:

$3,794

Sale Price:

$34,923

Call 512-985-2057 to schedule an appointment!

MSRP:

$39,166

Save:

$9,211

Sale Price:

$29,955

Call 512-985-2057 to schedule an appointment!

MSRP:

$39,017

Save:

$9,062

Sale Price:

$29,955

Call Today !! 512-985-2057

MSRP:

$47,195

Save:

$10,740

Sale Price:

$36,455

Call 512-985-2057 to schedule an appointment!

MSRP:

$48,220

Save:

$12,765

Sale Price:

$35,455

Call Today !! 512-985-2057

MSRP:

$49,702

Save:

$13,747

Sale Price:

$35,955

Call Today !! 512-985-2057

MSRP:

$50,711

Save:

$10,756

Sale Price:

$39,955

Call Today !! 512-985-2057

MSRP:

$50,557

Save:

$12,602

Sale Price:

$37,955

Call 512-985-2057 to schedule an appointment!

MSRP:

$50,557

Save:

$12,102

Sale Price:

$38,455

Call 512-985-2057 to schedule an appointment!

MSRP:

$51,398

Save:

$11,443

Sale Price:

$39,955

Call 512-985-2057 to schedule an appointment!

MSRP:

$52,400

Save:

$10,445

Sale Price:

$41,955

Call 512-985-2057 to schedule an appointment!

MSRP:

$53,978

Save:

$13,023

Sale Price:

$40,955

Call Today !! 512-985-2057

MSRP:

$71,220

Save:

$14,265

Sale Price:

$56,955

Call Today !! 512-985-2057

MSRP:

$58,651

Save:

$13,696

Sale Price:

$44,955

Call Today !! 512-985-2057

MSRP:

$58,941

Save:

$12,986

Sale Price:

$45,955

Call 512-985-2057 to schedule an appointment!

MSRP:

$60,375

Save:

$12,420

Sale Price:

$47,955

Call Today !! 512-985-2057

MSRP:

$62,179

Save:

$15,224

Sale Price:

$46,955

Call Today !! 512-985-2057

MSRP:

$62,355

Save:

$14,400

Sale Price:

$47,955

Call 512-985-2057 to schedule an appointment!

MSRP:

$63,674

Save:

$15,719

Sale Price:

$47,955

Call 512-985-2057 to schedule an appointment!

MSRP:

$69,007

Save:

$16,052

Sale Price:

$52,955

Call Today !! 512-985-2057

MSRP:

$71,252

Save:

$16,297

Sale Price:

$54,955

Call Today !! 512-985-2057

MSRP:

$65,323

Save:

$15,368

Sale Price:

$49,955

Call 512-985-2057 to schedule an appointment!

MSRP:

$61,148

Save:

$14,171

Sale Price:

$46,977

Call 512-985-2057 to schedule an appointment!

MSRP:

$70,824

Save:

$15,847

Sale Price:

$54,977

Call 512-985-2057 to schedule an appointment!

MSRP:

$62,183

Save:

$14,206

Sale Price:

$47,977

Call Today !! 512-985-2057

MSRP:

$65,131

Save:

$15,154

Sale Price:

$49,977

Call 512-985-2057 to schedule an appointment!

MSRP:

$71,716

Save:

$13,739

Sale Price:

$57,977

Call Today !! 512-985-2057

MSRP:

$46,192

Save:

$13,193

Sale Price:

$32,999
View All RV Inventory
$0 Down Financing* O.A.C and Guaranteed Approvals