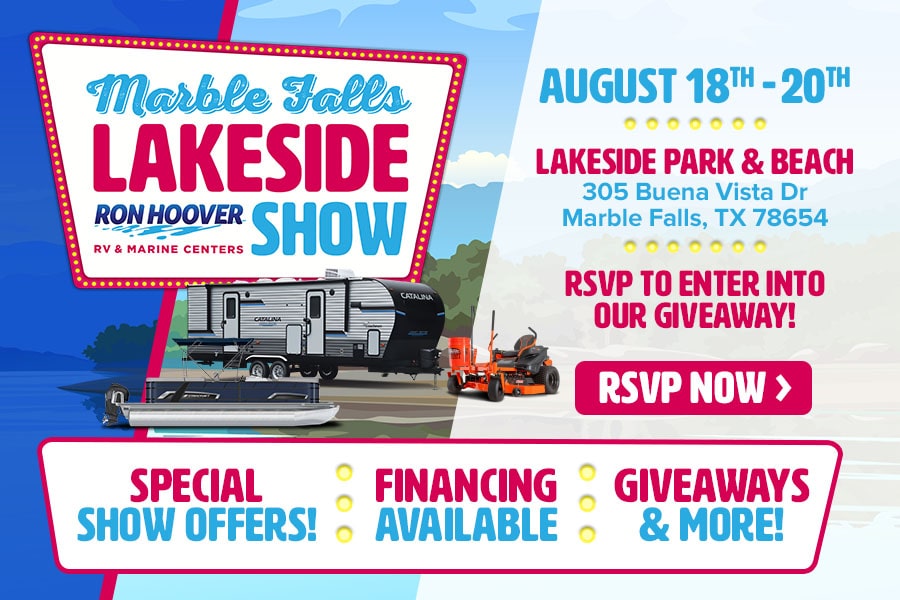 Marble Falls Lakeside Show Starts...
🔔ATTENTION🔔
We're Offering EXCLUSIVE Pricing for 3-Days Only!
📅You won't want to miss this - RSVP Now!
Your RSVP provides you:
🎊Entry into our Event Giveaway!
✅SPECIAL SHOW OFFERS! 💸
✅On Water Boat Demos Available for those who RSVP 🛥️
✅Special Financing Rates 💰
✅Giveaways & More!🎁


RSVP TODAY TO ENTER GIVEAWAY AND/OR SCHEDULE BOAT DEMO!
Featuring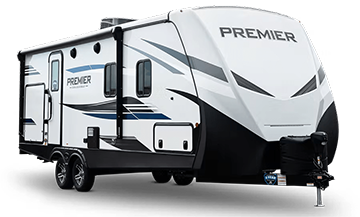 UNBEATABLE Pricing on our 2022 RV, Utility Trailer, Boat & Mower Models
Don't Miss the BEST Savings of the Year!
View All RV Inventory
View All Equipment Inventory
View All Boat Inventory
Ready to Get Pre-Approved?
Click for Georgetown Financing!
Click for San Antonio Financing!
What Are You Looking For?
FEATURED RVS
MSRP:

$51,296

Save:

$17,385

Sale Price:

$33,911

MSRP:

$63,474

Save:

$23,563

Sale Price:

$39,911

MSRP:

$31,356

Save:

$6,357

Sale Price:

$24,999

Call 512-985-2057 to schedule an appointment!

MSRP:

$61,148

Save:

$14,171

Sale Price:

$46,977

Call 512-985-2057 to schedule an appointment!

MSRP:

$56,334

Save:

$21,423

Sale Price:

$34,911

Call Today !! 512-985-2057

MSRP:

$70,824

Save:

$16,847

Sale Price:

$53,977

MSRP:

$39,774

Save:

$14,863

Sale Price:

$24,911

MSRP:

$39,774

Save:

$14,863

Sale Price:

$24,911

MSRP:

$39,746

Save:

$14,835

Sale Price:

$24,911

MSRP:

$39,646

Save:

$14,735

Sale Price:

$24,911

Call 512-985-2057 to schedule an appointment!

MSRP:

$50,669

Save:

$14,758

Sale Price:

$35,911

MSRP:

$49,431

Save:

$19,432

Sale Price:

$29,999

Call 512-985-2057 to schedule an appointment!

MSRP:

$71,716

Save:

$13,739

Sale Price:

$57,977

MSRP:

$63,759

Save:

$23,848

Sale Price:

$39,911

MSRP:

$61,773

Save:

$21,774

Sale Price:

$39,999

MSRP:

$36,801

Save:

$13,890

Sale Price:

$22,911

MSRP:

$35,338

Save:

$12,427

Sale Price:

$22,911

Call 512-985-2057 to schedule an appointment!

MSRP:

$57,834

Save:

$22,923

Sale Price:

$34,911

MSRP:

$35,779

Save:

$12,868

Sale Price:

$22,911

MSRP:

$45,040

Save:

$10,041

Sale Price:

$34,999

MSRP:

$33,330

Save:

$17,419

Sale Price:

$15,911

MSRP:

$47,198

Save:

$17,287

Sale Price:

$29,911

Call 512-985-2057 to schedule an appointment!

MSRP:

$25,469

Save:

$5,470

Sale Price:

$19,999

MSRP:

$104,353

Save:

$39,354

Sale Price:

$64,999

MSRP:

$104,207

Save:

$39,296

Sale Price:

$64,911

MSRP:

$91,360

Save:

$26,361

Sale Price:

$64,999

MSRP:

$150,905

Save:

$52,906

Sale Price:

$97,999

MSRP:

$109,696

Save:

$39,785

Sale Price:

$69,911

Call 512-985-2057 to schedule an appointment!

MSRP:

$132,394

Save:

$57,483

Sale Price:

$74,911

MSRP:

$90,472

Save:

$25,473

Sale Price:

$64,999

MSRP:

$84,653

Save:

$24,654

Sale Price:

$59,999

Call 512-985-2057 to schedule an appointment!

MSRP:

$87,263

Save:

$27,264

Sale Price:

$59,999

MSRP:

$123,212

Save:

$48,301

Sale Price:

$74,911

MSRP:

$81,860

Save:

$36,949

Sale Price:

$44,911

Call 512-985-2057 to schedule an appointment!

MSRP:

$160,200

Save:

$65,289

Sale Price:

$94,911

Call 512-985-2057 to schedule an appointment!

MSRP:

$178,700

Save:

$48,701

Sale Price:

$129,999

MSRP:

$149,607

Save:

$49,608

Sale Price:

$99,999
View All RV Inventory
View All Equipment Inventory
View All Boat Inventory