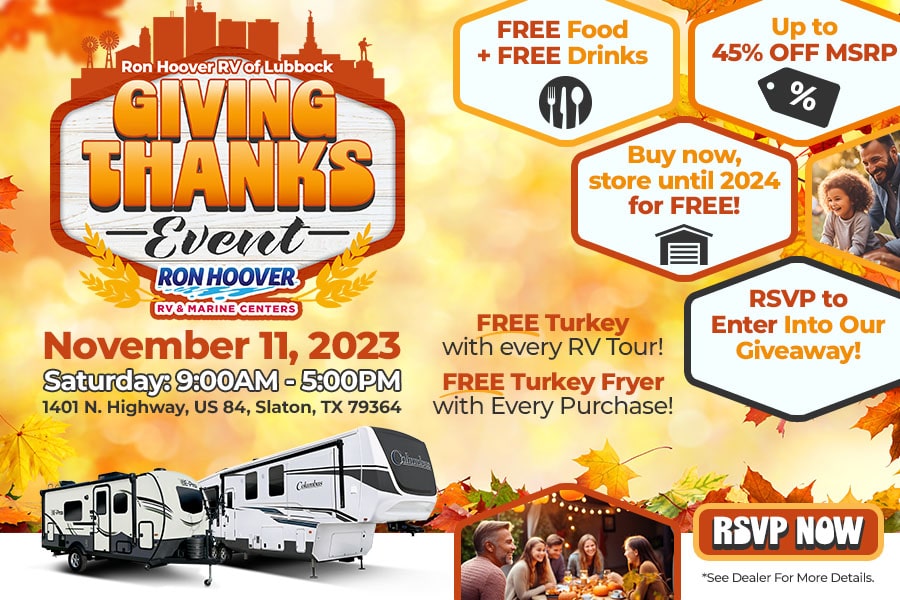 Lubbock RV Show Starts In...
🍂Celebrate With Us!🍂
You are invited to the
Ron Hoover RV of Lubbock - "GIVING THANKS EVENT"
RSVP TO ENTER INTO OUR GIVEAWAY!🎁
🍁Free Food + Free Drinks 🍲🧃
🍁Buy now, store until 2024 for free!🏪
🍁Free Turkey with every RV Tour 🦃
🍁Free Turkey Fryer with Every Purchase♨️



*See Dealer for more details
🏷️UP TO 45% OFF MSRP💸
Featuring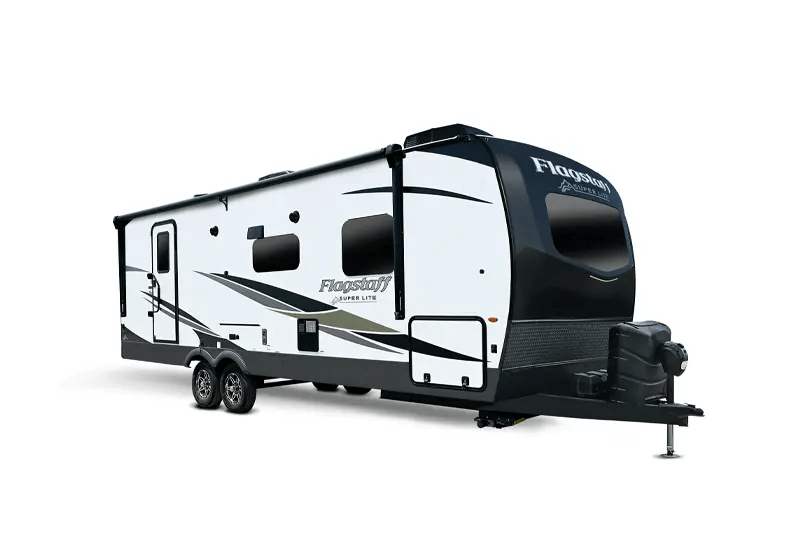 SHOP LATEST MODELS NOW!
Don't Miss the BEST Savings of the Year!
Ready to Get Pre-Approved?
What Are You Looking For?
FEATURED RVS
MSRP:

$57,729

Save:

$19,730

Sale Price:

$37,999

MSRP:

$33,677

Save:

$10,700

Sale Price:

$22,977

MSRP:

$33,900

Save:

$10,923

Sale Price:

$22,977

MSRP:

$33,736

Save:

$5,759

Sale Price:

$27,977

MSRP:

$26,853

Save:

$6,876

Sale Price:

$19,977

MSRP:

$38,077

Save:

$12,100

Sale Price:

$25,977

MSRP:

$24,288

Save:

$6,311

Sale Price:

$17,977

MSRP:

$58,495

Save:

$25,518

Sale Price:

$32,977

MSRP:

$45,759

Save:

$19,782

Sale Price:

$25,977

MSRP:

$36,595

Save:

$14,618

Sale Price:

$21,977

MSRP:

$35,518

Save:

$6,541

Sale Price:

$28,977

MSRP:

$37,772

Save:

$8,795

Sale Price:

$28,977

MSRP:

$56,842

Save:

$17,865

Sale Price:

$38,977

MSRP:

$57,034

Save:

$16,057

Sale Price:

$40,977

MSRP:

$103,653

Save:

$30,676

Sale Price:

$72,977

MSRP:

$107,092

Save:

$34,093

Sale Price:

$72,999

MSRP:

$93,953

Save:

$26,976

Sale Price:

$66,977

MSRP:

$94,178

Save:

$29,201

Sale Price:

$64,977

MSRP:

$52,613

Save:

$16,636

Sale Price:

$35,977

MSRP:

$80,098

Save:

$25,121

Sale Price:

$54,977

MSRP:

$97,497

Save:

$25,520

Sale Price:

$71,977

MSRP:

$77,911

Save:

$22,934

Sale Price:

$54,977

MSRP:

$81,925

Save:

$25,948

Sale Price:

$55,977
View All RV Inventory