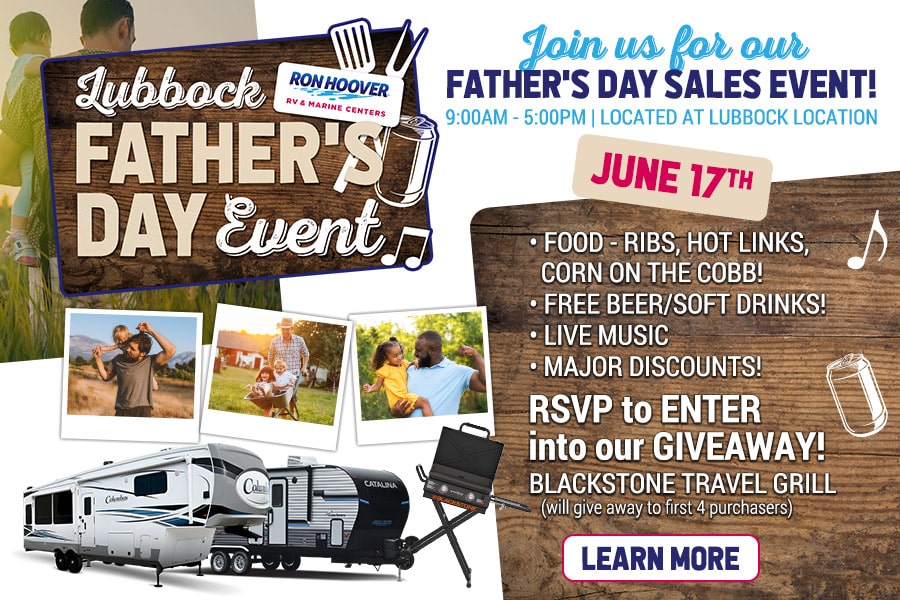 Lubbock Father's Day!
JOIN US FOR OUR FATHER'S DAY SALES EVENT!
MAJOR DISCOUNTS ON ALL 2022s with GUARANTEED APPROVALS!
✔️LIVE MUSIC
✔️MAJOR DISCOUNTS!
✔️FREE BEER/SOFT DRINKS!
✔️FOOD - RIBS, HOT LINKS, CORN ON THE COBB!
✔️GIVEAWAY: BLACKSTONE TRAVEL GRILL! (will give away to first 4 purchasers)🎁


Event Details
Dates:
June 17th, 2023
Hours:
Saturday
9:00 AM – 5:00 PM
Location:
Featuring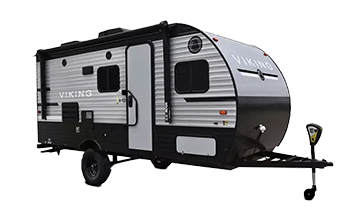 UNBEATABLE Pricing on our 2022 RVS!
Don't Miss the BEST Savings of the Year!
Ready to Get Pre-Approved?
What Are You Looking For?
FEATURED RVS
MSRP:

$30,595

Save:

$10,684

Sale Price:

$19,911

MSRP:

$33,677

Save:

$11,766

Sale Price:

$21,911

MSRP:

$33,900

Save:

$11,989

Sale Price:

$21,911

MSRP:

$33,736

Save:

$6,737

Sale Price:

$26,999

MSRP:

$26,311

Save:

$9,400

Sale Price:

$16,911

MSRP:

$26,853

Save:

$9,942

Sale Price:

$16,911

MSRP:

$35,311

Save:

$12,400

Sale Price:

$22,911

MSRP:

$38,077

Save:

$8,216

Sale Price:

$29,861

MSRP:

$24,288

Save:

$5,289

Sale Price:

$18,999

MSRP:

$40,785

Save:

$10,786

Sale Price:

$29,999

MSRP:

$36,595

Save:

$11,596

Sale Price:

$24,999

MSRP:

$49,104

Save:

$14,105

Sale Price:

$34,999

MSRP:

$37,772

Save:

$7,773

Sale Price:

$29,999

MSRP:

$56,842

Save:

$16,843

Sale Price:

$39,999

MSRP:

$42,976

Save:

$7,978

Sale Price:

$34,998

MSRP:

$57,034

Save:

$13,046

Sale Price:

$43,988

MSRP:

$33,511

Save:

$17,600

Sale Price:

$15,911

MSRP:

$117,467

Save:

$17,468

Sale Price:

$99,999

MSRP:

$114,348

Save:

$33,849

Sale Price:

$80,499

MSRP:

$103,653

Save:

$28,654

Sale Price:

$74,999

MSRP:

$93,953

Save:

$28,454

Sale Price:

$65,499

MSRP:

$94,178

Save:

$28,179

Sale Price:

$65,999

MSRP:

$52,613

Save:

$15,614

Sale Price:

$36,999

MSRP:

$80,098

Save:

$25,099

Sale Price:

$54,999

MSRP:

$97,497

Save:

$27,498

Sale Price:

$69,999

MSRP:

$77,911

Save:

$22,912

Sale Price:

$54,999

MSRP:

$81,925

Save:

$24,228

Sale Price:

$57,697
View All RV Inventory