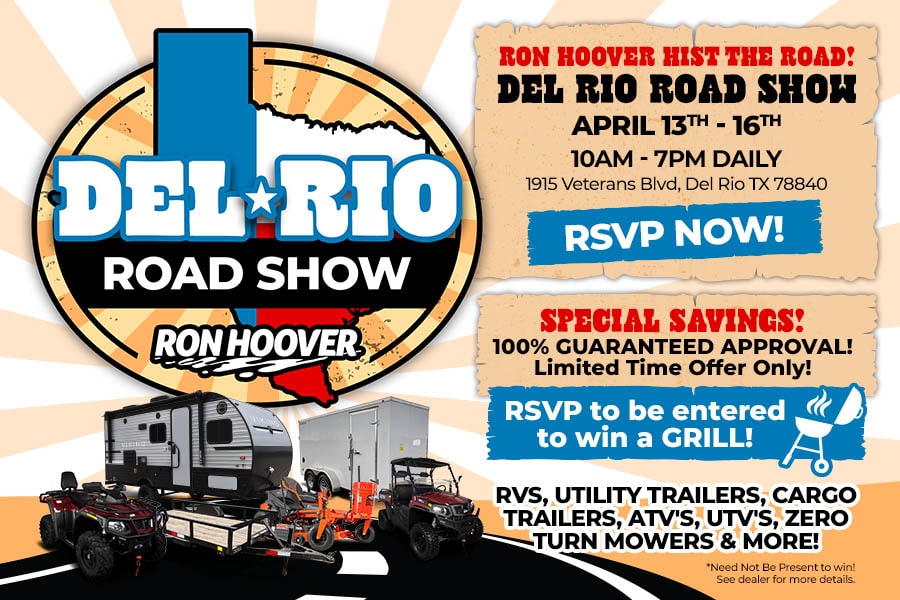 Ron Hoover Hits the Road! Come Join us at Del Rio! Event Ends In..
Come Join Us at Del Rio Road Show ! April 13th-April 16th! RSVP Now!
Entry into our Event Giveaway!


Special Savings!

Guaranteed Approval!

Limited Time Offer Only!

OFFERING - RV'S, UTILITY TRAILERS,CARGO TRAILERS, ATV'S,UTV'S,ZERO TURN MOWERS AND MORE!


Your RSVP provides you:
RSVP NOW TO WIN A GRILL!
*SEE STORE FOR DETAILS
*Need not be present to win!


Event Details
DEL RIO ROAD SHOW!
Dates:
April 13TH-16TH 2023
Hours:
10 AM - 7 PM DAILY
Location:
Featuring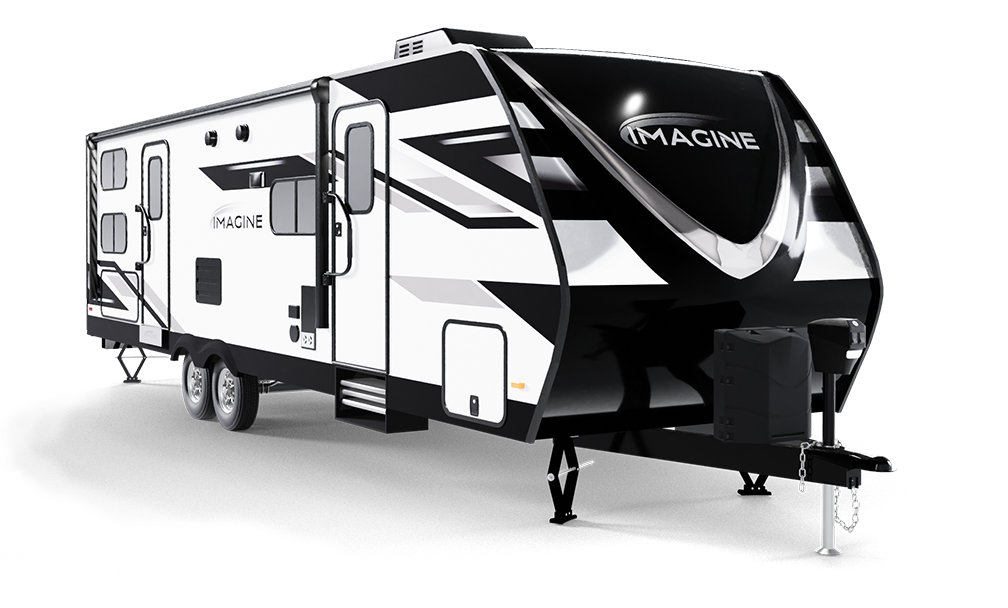 View All RV Inventory
View All Equipment Inventory
Ready to Get Pre-Approved?
What Are You Looking For?
FEATURED RVS
MSRP:

$73,502

Save:

$28,503

Sale Price:

$44,999

MSRP:

$56,645

Save:

$19,646

Sale Price:

$36,999

MSRP:

$31,178

Save:

$9,179

Sale Price:

$21,999

MSRP:

$90,371

Save:

$29,371

Sale Price:

$61,000

MSRP:

$36,326

Save:

$9,327

Sale Price:

$26,999

MSRP:

$52,600

Save:

$18,601

Sale Price:

$33,999

MSRP:

$32,331

Save:

$10,332

Sale Price:

$21,999

MSRP:

$36,762

Save:

$10,763

Sale Price:

$25,999

MSRP:

$37,283

Save:

$10,284

Sale Price:

$26,999

MSRP:

$34,240

Save:

$8,241

Sale Price:

$25,999

MSRP:

$28,683

Save:

$7,684

Sale Price:

$20,999

MSRP:

$33,214

Save:

$13,215

Sale Price:

$19,999

MSRP:

$130,320

Save:

$55,409

Sale Price:

$74,911

MSRP:

$126,122

Save:

$56,211

Sale Price:

$69,911

MSRP:

$40,752

Save:

$10,753

Sale Price:

$29,999

MSRP:

$53,070

Save:

$18,071

Sale Price:

$34,999

MSRP:

$144,706

Save:

$64,795

Sale Price:

$79,911
View All RV Inventory
View All Equipment Inventory