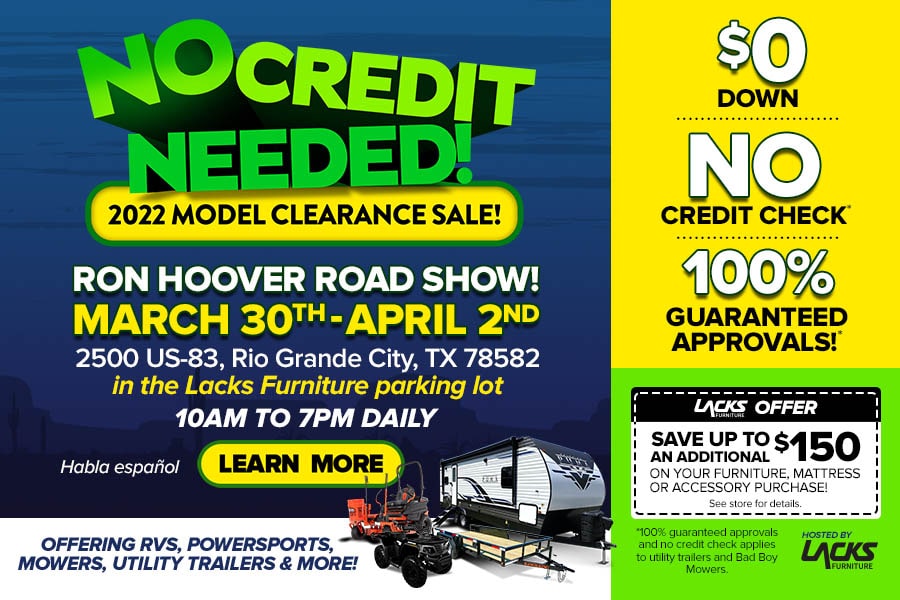 Ron Hoover Road Show in Rio Grande City at Lacks Furniture Event Ends In...
COME JOIN US THURS-SATURDAY, MARCH 30TH- APRIL 2ND TO
SAVE THOUSANDS ON A 2022 MODELS! 
Your RSVP provides you:
Entry into our Event Giveaway!


SAVE UP TO AN ADDITIONAL
$150 ON YOUR FURNITURE, MATTRESS OR ACCESSORY PURCHASE!
*SEE STORE FOR DETAILS


Event Details
Come see us at the 2022 Model Clearance!
Dates:
March 30- April 2, 2022
Hours:
Thursday
10:00 AM - 7:00 PM
Friday
10:00 AM – 7:00 PM
Saturday
10:00 AM – 7:00 PM
Location:
Featuring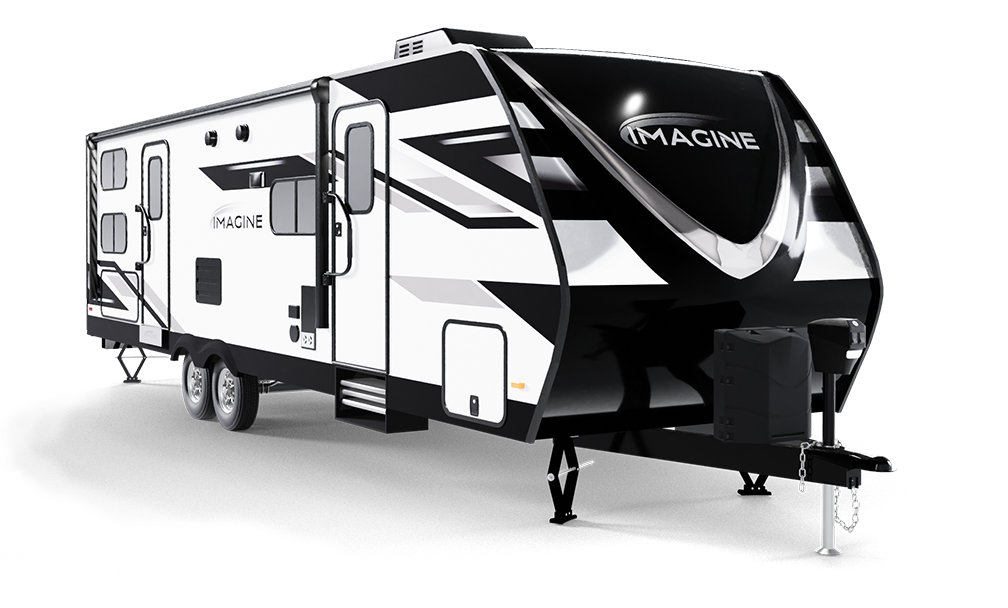 CLOSEOUT Pricing on our 2022 RV, Utility Trailer & Mower Models
Don't Miss the BEST Savings of the Year!
View All RV Inventory
View All Equipment Inventory
Ready to Get Pre-Approved?
What Are You Looking For?
FEATURED RVS
Call 512-985-2057 to schedule an appointment!

MSRP:

$61,148

Save:

$24,149

Sale Price:

$36,999

Call Today !! 512-985-2057

MSRP:

$70,824

Save:

$27,825

Sale Price:

$42,999

Call 512-985-2057 to schedule an appointment!

MSRP:

$71,716

Save:

$26,717

Sale Price:

$44,999

Call 512-985-2057 to schedule an appointment!

MSRP:

$57,834

Save:

$23,835

Sale Price:

$33,999

Call 512-985-2057 to schedule an appointment!

MSRP:

$25,469

Save:

$8,470

Sale Price:

$16,999

Call 512-985-2057 to schedule an appointment!

MSRP:

$132,394

Save:

$57,483

Sale Price:

$74,911

Call 512-985-2057 to schedule an appointment!

MSRP:

$87,263

Save:

$27,264

Sale Price:

$59,999

Call 512-985-2057 to schedule an appointment!

MSRP:

$160,200

Save:

$65,201

Sale Price:

$94,999

Call 512-985-2057 to schedule an appointment!

MSRP:

$178,700

Save:

$48,701

Sale Price:

$129,999
View All RV Inventory
View All Equipment Inventory