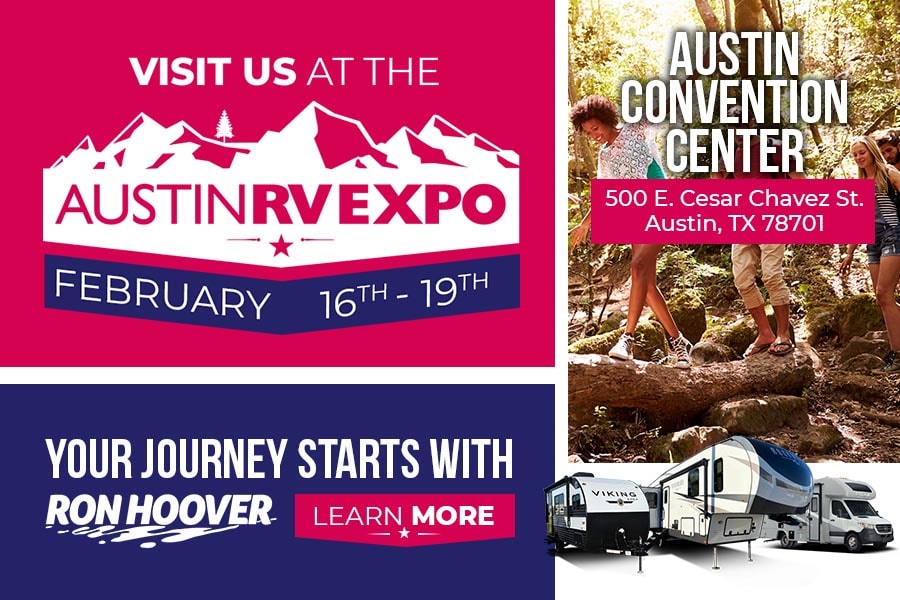 Austin RV Expo Ends In...
COME JOIN US THURS - SUN, FEB 16-19 AT THE AUSTIN RV EXPO FOR BIG SAVINGS!
Your RSVP provides you:
Entry into our Event Giveaway!
Featuring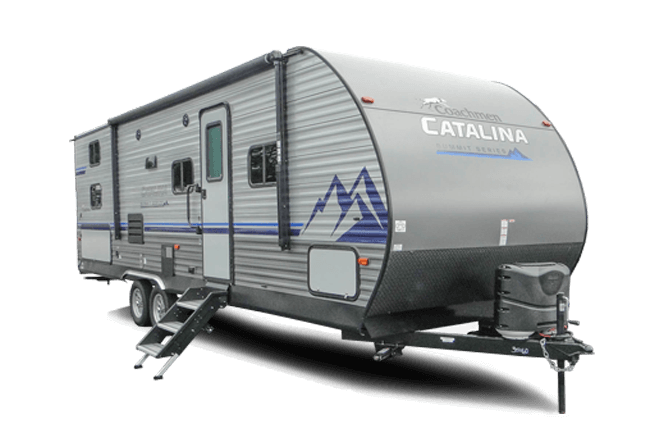 Amazing Pricing on our 2023 RV models
Don't Miss the BEST Savings to start the Year!
What Are You Looking For?
FEATURED RVS
Call Today !! 512-985-2057

MSRP:

$40,225

Save:

$7,248

Sale Price:

$32,977

Call 512-985-2057 to schedule an appointment!

MSRP:

$53,339

Save:

$15,340

Sale Price:

$37,999

Call 512-985-2057 to schedule an appointment!

MSRP:

$59,929

Save:

$9,930

Sale Price:

$49,999

Call 512-985-2057 to schedule an appointment!

MSRP:

$53,020

Save:

$15,021

Sale Price:

$37,999

Call 512-985-2057 to schedule an appointment!

MSRP:

$59,806

Save:

$16,807

Sale Price:

$42,999

Call 512-985-2057 to schedule an appointment!

MSRP:

$60,219

Save:

$13,220

Sale Price:

$46,999

Call Today !! 512-985-2057

MSRP:

$26,363

Save:

$11,452

Sale Price:

$14,911

Call 512-985-2057 to schedule an appointment!

MSRP:

$26,363

Save:

$11,452

Sale Price:

$14,911

Call 512-985-2057 to schedule an appointment!

MSRP:

$26,363

Save:

$11,452

Sale Price:

$14,911

Call Today !! 512-985-2057

MSRP:

$26,508

Save:

$10,597

Sale Price:

$15,911

Call 512-985-2057 to schedule an appointment!

MSRP:

$26,508

Save:

$10,597

Sale Price:

$15,911

Call Today !! 512-985-2057

MSRP:

$26,508

Save:

$10,597

Sale Price:

$15,911

Call 512-985-2057 to schedule an appointment!

MSRP:

$26,508

Save:

$10,597

Sale Price:

$15,911

Call 512-985-2057 to schedule an appointment!

MSRP:

$27,813

Save:

$10,902

Sale Price:

$16,911

Call 512-985-2057 to schedule an appointment!

MSRP:

$55,060

Save:

$15,083

Sale Price:

$39,977

MSRP:

$58,689

Save:

$12,690

Sale Price:

$45,999

Call Today !! 512-985-2057

MSRP:

$63,945

Save:

$15,946

Sale Price:

$47,999

Call Today !! 512-985-2057

MSRP:

$31,378

Save:

$8,423

Sale Price:

$22,955

Call Today !! 512-985-2057

MSRP:

$31,378

Save:

$8,423

Sale Price:

$22,955

Call 512-985-2057 to schedule an appointment!

MSRP:

$36,426

Save:

$10,471

Sale Price:

$25,955

Call Today !! 512-985-2057

MSRP:

$35,680

Save:

$6,725

Sale Price:

$28,955

Call 512-985-2057 to schedule an appointment!

MSRP:

$36,126

Save:

$7,171

Sale Price:

$28,955

Call 512-985-2057 to schedule an appointment!

MSRP:

$38,717

Save:

$3,794

Sale Price:

$34,923

Call 512-985-2057 to schedule an appointment!

MSRP:

$39,166

Save:

$9,211

Sale Price:

$29,955

Call 512-985-2057 to schedule an appointment!

MSRP:

$39,017

Save:

$9,062

Sale Price:

$29,955

Call Today !! 512-985-2057

MSRP:

$47,195

Save:

$10,740

Sale Price:

$36,455

Call 512-985-2057 to schedule an appointment!

MSRP:

$48,220

Save:

$12,765

Sale Price:

$35,455

Call Today !! 512-985-2057

MSRP:

$49,702

Save:

$13,747

Sale Price:

$35,955

Call Today !! 512-985-2057

MSRP:

$50,711

Save:

$10,756

Sale Price:

$39,955

Call Today !! 512-985-2057

MSRP:

$50,557

Save:

$12,602

Sale Price:

$37,955

Call 512-985-2057 to schedule an appointment!

MSRP:

$50,557

Save:

$12,102

Sale Price:

$38,455

Call 512-985-2057 to schedule an appointment!

MSRP:

$51,398

Save:

$11,443

Sale Price:

$39,955

Call 512-985-2057 to schedule an appointment!

MSRP:

$52,400

Save:

$10,445

Sale Price:

$41,955

Call 512-985-2057 to schedule an appointment!

MSRP:

$53,978

Save:

$13,023

Sale Price:

$40,955

Call Today !! 512-985-2057

MSRP:

$71,220

Save:

$14,265

Sale Price:

$56,955

Call Today !! 512-985-2057

MSRP:

$58,651

Save:

$13,696

Sale Price:

$44,955

Call Today !! 512-985-2057

MSRP:

$58,941

Save:

$12,986

Sale Price:

$45,955

Call 512-985-2057 to schedule an appointment!

MSRP:

$60,375

Save:

$12,420

Sale Price:

$47,955

Call Today !! 512-985-2057

MSRP:

$62,179

Save:

$15,224

Sale Price:

$46,955

Call Today !! 512-985-2057

MSRP:

$62,355

Save:

$14,400

Sale Price:

$47,955

Call 512-985-2057 to schedule an appointment!

MSRP:

$63,674

Save:

$15,719

Sale Price:

$47,955

Call 512-985-2057 to schedule an appointment!

MSRP:

$69,007

Save:

$16,052

Sale Price:

$52,955

Call Today !! 512-985-2057

MSRP:

$71,252

Save:

$16,297

Sale Price:

$54,955

Call Today !! 512-985-2057

MSRP:

$65,323

Save:

$15,368

Sale Price:

$49,955

Call 512-985-2057 to schedule an appointment!

MSRP:

$61,148

Save:

$14,171

Sale Price:

$46,977

Call 512-985-2057 to schedule an appointment!

MSRP:

$70,824

Save:

$15,847

Sale Price:

$54,977

Call 512-985-2057 to schedule an appointment!

MSRP:

$62,183

Save:

$14,206

Sale Price:

$47,977

Call Today !! 512-985-2057

MSRP:

$65,131

Save:

$15,154

Sale Price:

$49,977

Call 512-985-2057 to schedule an appointment!

MSRP:

$71,716

Save:

$13,739

Sale Price:

$57,977

Call Today !! 512-985-2057

MSRP:

$46,192

Save:

$13,193

Sale Price:

$32,999
View All RV Inventory